Hyperion Remote
Control your smart TV lights connected to Hyperion with your iPhone, iPad or Apple Watch. Hyperion Remote allows you to set your favorite colors and beautiful light effects.

Hyperion Remote in Action
After installing the app detects your Hyperion server so you are ready to go in seconds.
Set the color from the beautiful color wheel. Use curated images or your own to paint your room in a delightful atmosphere. Choose from all your preinstalled effects. For instance create calming light installations, eye pleasing effects or show off your party lights.
Save your favorite colors to a quick access menu. Turn off all light effects to regain your Ambilight behavior. Furthermore use the hex input to get the precise color you want or switch to the color temperature wheel for more natural whites.
Screenshots
A minimalistic design allows you to control all features of your smart lights. Additionally the remote app features a nice dark theme that pleases the eye and allows you to control your lights with ease.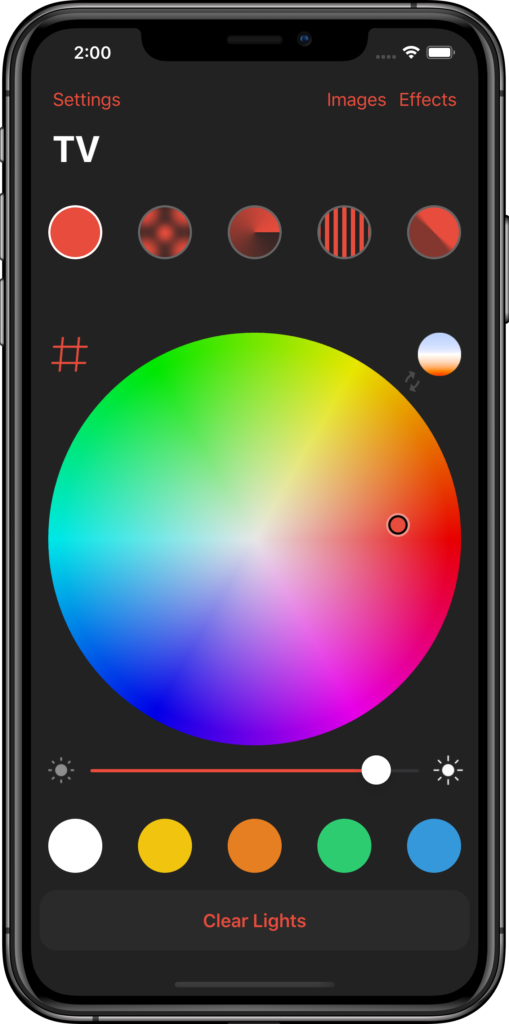 Features
The app comes with a huge list of awesome features:
Use the intuitive color wheel to set your favorite colors
Control beautiful light effects with ease
Use the timesaving and handy today widget
Adjust color transformations through this app
Save your favorite colors for quick usage
Start your effects with your own settings
Hyperion detects your servers
Add many Hyperion servers
Illuminate your room using your Apple watch
Display the handy in your today-view of your notification center. The widget enables shortcuts for the most used features. In other words it allows you to use your last color, effect, or to clear the light. Change the light in your room without opening the app – in seconds!

Requires a Hyperion Server
Hyperion Remote works with Hyperion and Hyperion.NG installed on various devices. This includes Raspberry Pi, Arduino, Windows, Mac, or Linux machine and various devices like Lightberry, AdaLight, Lightpack, Paintpack, Atmolight, AmbiLED, and many more. In short the app supports all lights Hyperion works with.
Connect the app to the same network (Wi-Fi) Hyperion is on and Hyperion Remote finds it. On the other hand you can enter the local ip and port to connect the app with your server manually.
Hyperion.NG supported
The new generation Hyperion.NG is supported by Hyperion Remote. Take advantage of a new version of Hyperion with more features and device support.
Hyperion Remote detects your Hyperion.NG server automatically and quickly. All effects and images are supported – and there is even more to come.
Devices like Nanoleaf, Philips Hue, Yeelight, (Multi-)Lightpack, and LED strips like APA102, SK6812, WS2801, and WS2812 are fully supported by Hyperion and Hyperion.NG and thus work with Hyperion Remote.
You can even create custom applications with piblaster or other software controlling your Raspberry Pi with Hyperion and Hyperion Remote.
Hyperion as a wake-up light
Do you want to wake up more naturally? Ever heard of a wake-up light?
Use Homebridge to connect your Hyperion light to HomeKit. This way you can use the app Wake Up Light to transform your smart light into a wake-up light.
A wake-up light increases its brightness over time and ideally changes its color temperature from a warm red to a bright and colder white – mimicking the natural sunrise. Such an artificial sunrise wakes your body up in the morning.
Feedback & Help
Do you have questions, comments or concerns? Feel free to drop me a line. If you want to improve the translation of Hyperion Remote, look no further.